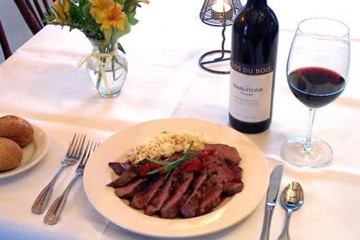 The Sun Tavern offers upscale American cuisine. Listed as one of Phantom Gourmet's "Top 100 Restaurants in New England" you will find cuisine that rivals the finest that Boston has to offer. Awarded the "Gold Plate" by Billy Costa of T.V. Diner and referred to as "hot and happening"; The Sun Tavern is the place to dine on the South Shore.
RESERVATIONS are accepted in the dining room for parties of 2 or more and are recommended, especially on weekends.  Tavern seating is on a first come basis.
Many of our menu selections are naturally Gluten Free as indicated on the menu (GF).  Many other items can be made Gluten Free to order.  Just ask your server.
"1741" denotes our signature house-made sauces.
Menu items and prices are subject to change without notice.