Valentine's Day 2019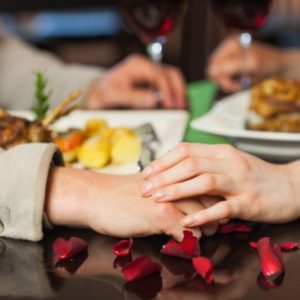 To Start
Coconut Shrimp, White Gulf Shrimp, Tangy Marmalade Dipping Sauce 14
Tavern Crab Cake, Roasted Corn & Red Pepper Aioli, Chili Dressed Frisee 13
Crispy Fried Calamari, Sweet Chili Sauce, Peanuts, Cilantro 11
Chilled Jumbo Shrimp Cocktail, Black Tiger Shrimp, "1741" Cocktail Sauce 14 (GF)
Island Creek Oysters, "1741" Cocktail Sauce, Smoked Chili Mignonette 14 (GF)
Shrimp & Sauteed Spinach Ravioli, Red Pepper Flakes, Lemon Cream 11
New England Clam Chowder, House-Smoked Bacon, Yukon Gold Potatoes 4.5/7
Soup of the Day 4.5/7
Winter Bruschetta, Roasted Butternut Squash, Smoked Bleu Cheese, Apple Slaw, Pecans 10
Roasted Beet Salad, Arugula, Goat Cheese, Pickled Fennel, Walnut Vinaigrette 11 (GF)
Chopped Salad, Romaine & Iceberg, House Made Bacon, Bleu Cheese, Pecans, Bleu Cheese Dressing 10 (GF)
Caesar Salad, House Made Croutons, Parmigiano Reggiano, Crispy Pancetta 8.5
Consuming raw or under cooked meats, poultry, or seafood may increase your risk of food borne illness.
Before ordering, please notify your server if anyone in your party has a food allergy.
To Follow
All-Natural Roasted Half Chicken, Bacon Lardons, Rustic Mashed, Charred Lemon Pan Juices 23 (GF)
Grilled Certified Angus Petit Filet Mignon, Chive Potato Cake, Crab Hollandaise 34
Spice Rubbed Fresh Swordfish, Pickled Ginger Vinaigrette, Roasted Fingerling Potatoes, Pickled Cucumber 29
Pecan Crusted ½ Rack Of Lamb, Grain Mustard Potato Pancake, Rosemary Demi Glace 28 (GF)
Oven Roasted Atlantic Salmon, Dupuy Lentils, Cumin Beurre Blanc, Carrot Pesto 25 (GF)
USDA Choice Certified Black Angus 14oz. NY Sirloin, Whiskey Butter, Mashed Sweet Potatoes 34
(very rich marbling, flavorful and extremely tender)
Pan Seared Sea Scallops, Roasted Cauliflower Puree, Caper Raisin Emulsion 28 (GF)
Grilled Bone-In Pork Loin Chop, Bleu Cheese Mashed Potatoes, Bacon Jam, Mustard Demi 25
Seafood Stew, Shrimp, Jumbo Sea Scallop, Mussels, Cod, Tomato Saffron Sauce, Handmade Linguini 24
Oven Baked Cod, Roasted Yukon Golds, Butter Cracker Crumbs, Citrus Beurre Blanc 24
Vegetarian and Vegan dishes can be prepared on request.  Just ask.
A gratuity of 18% will be added to parties of 8 or more.